Welcome to
Prestige Products
Locally owned with experience & reliability
We have been servicing Perth and the South West of Western Australia with quality products for the last 25 years.
Our friendly team have a wealth of product expertise and knowledge and can assist you with all your requirements. Our affiliations and connections with major suppliers and brands enables us in providing you with a wide range of products and ensures our ability to service all sectors and markets. As a specialty wholesaler we devote all our resources to ensuring the best product, price and service for you.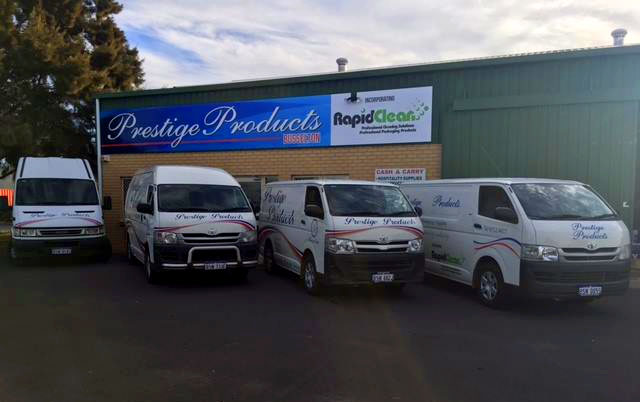 Delivery Policy
FREE NEXT DELIVERY DAY TO THE WHOLE SOUTH WEST!
Busselton/Dunsborough/Margaret River/Capel – Mon-Fri daily
Bunbury – Monday/Tuesday/Thursday/Friday
Pemberton/Manjimup/Bridgetown/Nannup/Donnybrook – Wednesday
Augusta – Friday
Perth – Monday
Popular

and Featured Products
Tessa
The Cidery and Blackwood Valley Brewing Co, Bridgetown
Jordan Palk
General Manager Eight Willows Retreat, Margaret River
Lilli
Simmos Icecreamery and Family Fun Park, Dunsborough
Caves House Hotel, Yallingup
Eamon & James
Colonial Brewery, Margaret River
Donna
Brewaliscious Café, Busselton
Our affiliation to the Rapid Clean Group enables us to offer a wide range of products including paper and plastic bags, food containers, takeaway and pizza boxes, packaging products such as bubblewrap, Sellotape etc, a wide variety of guest amenities, catering products, cleaning chemicals and equipment.